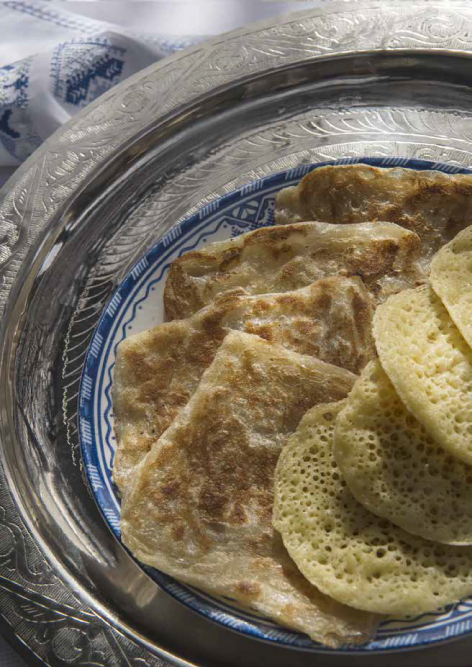 29-07-2021
SHROVE TUESDAY: INCREDIBLE PANCAKE RECIPE
We are glad to share our Moroccan pancake recipe as featured on Tempus Magazine.
BY TEMPUS | 10 FEB 2021 | INDULGE
Pancake Day is just around the corner, so why not try out one of these worldly pancake recipes?
Like many of us, you may have been told that money makes the world go round. However upon further research, Tempus can confirm that does in fact appear to be pancakes that perpetuate the rotation of the globe. These small flu y discs are a culinary touchstone in hundreds of cuisines across the globe, with each culture developing their own distinct styles.
Thus, if you are feeling particularly adventurous this pancake day (16 February) and wish to travel the world from the comfort of your own kitchen, Tempus and The PC Agency have compiled a list of the best pancake recipes from some of our favourite hotels and more from across the globe.
MOROCCO
The Msemen Pancake from La Sultana Marrakech
Msemen is a flat, square Moroccan pancake with a crisp and flaky outside and a delicious chewy inside. It is traditionally served for breakfast with honey and butter but can also be enjoyed in the evening with Moroccan mint tea or co ee. While it may be a slightly more complicated recipe, La Sultana ensures it will be worth it.
Ingredients
3 1/2 cups white flour
all purpose or bread
1/2 cup fine semolina or durum flour
2 tsp sugar
2 tsp salt
1/4 tsp dry yeast
1 1/2 cups warm water For folding the Msemen
1 cup vegetable oil
1/2 cup fine semolina
1/4 cup very soft unsalted butter
Method
Making the Msemen dough
1. Mix the dry ingredients in a large bowl and add the water and combine to make a dough.
2. Knead the dough by hand (or with a mixer and dough hook) until very smooth, soft and elastic but not sticky. Adjust water or flour as neces sary to achieve that texture.
3. Divide the dough into balls the size of small plums. Be sure the top and sides of the balls are smooth. Transfer the balls of dough on an oiled tray, cover loosely with plastic and leave to rest for 10 to 15 minutes.
4. While the dough is resting, set up a work area. You'll need a large flat surface for spreading and folding the dough. Set out bowls of vege table oil, semolina and very soft butter. Set your griddle or large frying pan on the stove, ready to heat up.
Shaping the Msemen
1. Generously oil your work surface and your hands. Dip a ball of dough in the oil and place it in the center of your work space. Using a light touch and quick sweeping motion from the center outward, gently spread the dough into a paper-thin, roughly shaped circle. Oil your hands as often as needed so that they slide easily over the dough.
2. Dot the flattened dough with butter and sprinkle with semolina. Fold the dough into thirds like a letter to form an elongated rectangle. Dot again with butter, sprinkle with semolina, and fold again into thirds to form a square.
3. Transfer the folded dough to the oiled tray and repeat with the remaining balls of dough. Keep track of the order in which you folded the squares.
Cooking the Msemen
1. Heat your griddle or frying pan over medium heat until quite hot. Starting with the first Msemen you folded, take a square of dough and place on your oiled work surface. Oil your hands and pat the dough firmly to flatten it to double its original size.
2. Transfer the flattened square to the hot griddle and cook, turning several times, until cooked through, crispy on the exterior and golden in color. Transfer to a rack.
3. Repeat with the remaining squares, working with them in the order in which they were folded. You can flatten and cook several at a time if your pan or griddle can accommodate them.
4. When each Msemen has cooled for a minute or two, pick it up from opposite ends and gently flex it for a few seconds with a quick back and forth, see-saw motion. This helps separate the laminated layers from each other.
5. Serve the Msemen immediately, or allow to cool completely before freezing.
This recipe comes from La Sultana Marrakech, Morocco.
lasultanahotels.com
Read full article with recipes from around the world : Tempus Magazine