SPA & WELLNESS
Contemplating new landscapes, experiencing privileged moments with nature, spontaneously open up the path towards reconnecting with oneself. Sources of vitality, natural daylight and water perpetuate a legacy of authentic beauty. At La Sultana Oualidia, with all the vaulted ceilings open to the sky in the stone cathedral-like Spa, bathing is much more than a simple purifying ritual. It becomes emotional immersion, a bubble for the senses, in which the body retrieves its natural balance and attains perfect harmony.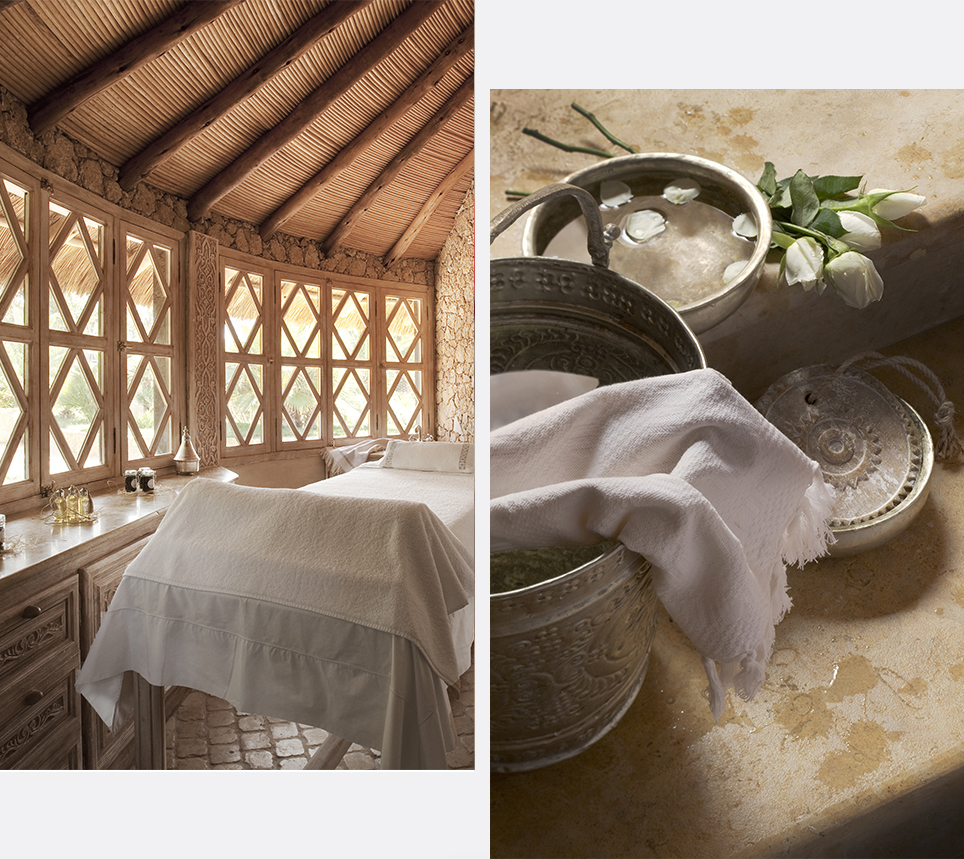 The promise of eternal beauty and a culture fond of treatments have been anchored in the Moroccan way of life for thousands of years. At La Sultana, natural cosmetics illustrate a philosophy rooted in simplicity and authenticity. The traditions of the hammam and massages, plants and essential oils, treatments inspired by the legacy of the Mediteranean, offer a unique concentrate of preventive healthcare and natural benefits.
At the heart of the institute, suggestions for facial treatments in the Darphin range add radiance to loveliness on an everyday basis.


In incomparable peacefulness, the hammam offers a privileged moment that ritualises each step towards in-depth exfoliation. Treatments are imbued with the virtues of ancestral traditions and wafting fragrances of roses, almonds, lemons, orange blossom. Discreet professional attention accompanies each stage in a pause devoted to gentleness and well-being at the Spa. In dietetic delicacies, the restaurant at La Sultana Oualidia garners the best from the lagoon and sustainable fishing.
Please note that early booking is essential for non-resident guests : spa@lasultanaoualidia.com - (00 212) 5 23 35 65 95
It is in the heart of the Sultana, the hammam serves as a temple of body relaxation and
spirit massage, to let yourself get carried away by the magic created by other hands.